Over the next 12 weeks I will transform from soft to cut from stone. I will gain muscle and I will lose fat, and those who say it can't be done will be swallowing their tongues. Bulking and cutting is not for me. I'm not going to put my body through that stupid cycle.
I will instead focus on getting stronger, not building mass. Because strength is size. I will not obsess about losing weight. I will focus on setting goals and meeting those goals. This time around its going to be about the weight on the bar not the weight on the scale.
Particularly the barbell squat. My current max was 265 for 6 reps during tc9, and over this contest I am making a goal to get that number to 325, which is 60 lbs heavier. Thats 5 lbs per week, so I have no excuse, this goal must be met.
In 12 weeks I will achieve an increase in muscle mass, and a decrease in body fat. Right now I am 178.5 lbs and about 12% fat. I would like to get low enough to see abs, and shave the love handles. I am thinking 8-9%.
By the numbers it looks like this:
Current:
178.5 bodyweight
12% body fat (estimate, hand held and accumeasure within 1% of each test result)
21.42 lbs fat mass (estimate)
157lbs lean mass (estimate)
Goals:
178 bodyweight
8% body fat
14.24 lbs fat mass
163.76 lbs lean mass
So to achieve these goals I need to lose 7 lbs of fat and gain 6.7 lbs of muscle. The scale might not move but the results will definitely show. My feeling is that concrete goals will get me the kind of results I want to achieve. Vague undefinable goals are hard to meet.
I will use the Eat Stop Eat method and eat whole foods with a 90-10 rule for wiggle room. I will be using meatheads programs and possibly others that have squats in the programs (most.) Until it thaws I will treat pick up ice hockey games as intervals (2-3 per week,) because its way more fun. When it gets warm I will be mountain biking, with a new bike I will buy with my TC9 winnings (yahoo!)
I am excited to start another contest. My motivation increases and I have this unbreakable will to stay on course.
Day 1 stats:
weight: 178.5
height: 5-9.5"
body fat: 12% (estimate)
tape measurements (taken on right side)
neck 14.5"
shoulders 48.5"
bicep 14.5"
forearm 12"
chest 42"
navel 36"
waist 34.5"
hips 38"
thigh 24.5"
calf 15.5"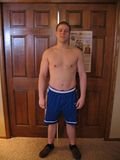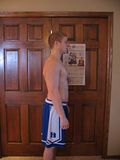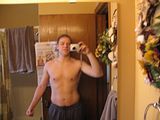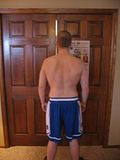 http://i240.photobucket.com/albums/f...6/IMG_9360.jpg
http://i240.photobucket.com/albums/f...6/IMG_9359.jpg